Winter Time Aesthetics Promotion: Protect Your Volvo From Winter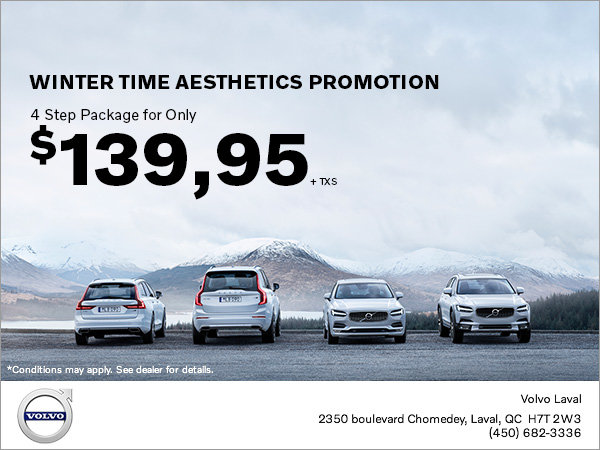 Protect your Volvo from Winter's elements for only $139,95 plus taxes! With this 4-step detailed package, you are sure to keep your Volvo vehicle safe from the season's harsh climate, including salt and calcium build up, dirt, rain, and more.
1. Underbody Pressure Wash
It is recommended to clean the underbody of your Volvo once every season in order to remove calcium and dirt build up under your vehicle.
2. In and Out Wash
This includes the cleaning and shining of your wheels.
3. Paint Protection Treatment
Paint decontamination with aluminium oxide clay bar

Protects against UV, salt & calcium
Gives back original shine and prevents fading
Better appearance and easier to maintain
4. Windshield Treatment
Enhanced visibility in rainy conditions
Easier to remove ice, snow, bugs and dirt
Reduces the use of windshield wiper fluid
Conditions apply. See dealer for details.