Volvo Service: a World of Attention
July 31 2019, Volvo Laval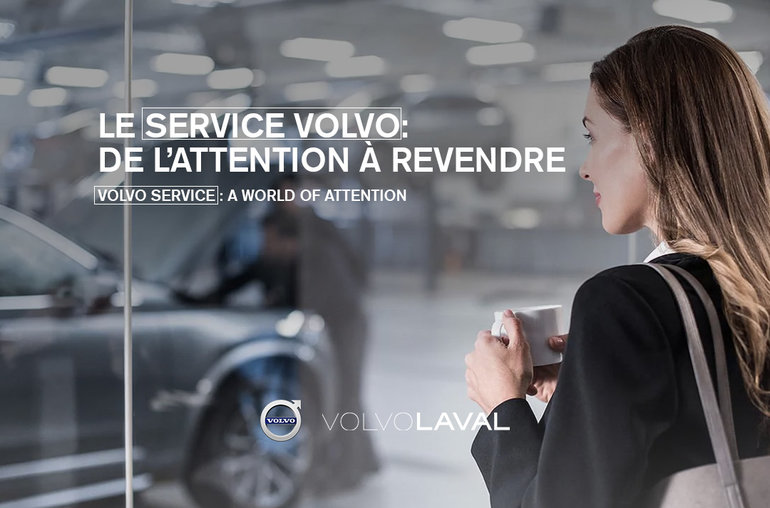 When you walk into a Volvo Service department in Laval, you will be pleasantly surprised to be greeted by an experienced, courteous and dynamic technician who knows his stuff. He will take the time to listen to your needs. He will discuss the repairs to be carried out and will walk around the vehicle to make sure that nothing is overlooked. This same technician will review your personal maintenance sheet and tell you how long the repairs will take. He will offer you a loaner vehicle or drive you home.
Flawless Service
This attentive service builds confidence in Volvo vehicles, but even more so in the expert care provided by Volvo Laval. Over the years, he has become an icon of Volvo's automotive service in Laval in the greater Montreal area.
Moreover, the staff at this dealership are committed to their products and are dedicated to the customer. Even if it's just an oil change, we'll make sure we use the best products for your vehicle. We will check the wear and tear of the components and make the necessary replacements to ensure that your vehicle receives the best repairs. For major repairs, we will use only replacement parts guaranteed by Volvo. We will also make sure to conduct the necessary tests before returning your vehicle. In this way, we can guarantee not only work done on your vehicle, but also the quality of the original replacement parts that we use.
If you have to leave your vehicle at our service department for longer-term repairs, Volvo Laval will ensure that you receive all the necessary attention. We will take the time to explain in detail the repairs done on your vehicle. You will know exactly how long the work will take, and we will give you all the documentation once the work is finished and explain what has been corrected on your vehicle. You will leave with your vehicle all tuned up. Our strong repair service will exceed your expectations. At Volvo Laval, we do everything to give you satisfaction.
In short, at Volvo Laval, a Volvo dealer near Montreal, we take customer service very seriously and we guarantee our repairs. We offer the best service, in addition to a 24/7 towing service. Our vehicle maintenance service includes the best Volvo technicians on the market. They also benefit from a continuous education program that allows them to stay on top of the latest technological developments. Thanks to our highly-qualified staff, your vehicle is in good hands during its stay with us. In short, years of experience await you at Volvo Laval.
Even more spectacular, the dealership offers modern facilities, state-of-the-art equipment and an unbeatable team of technicians. In fact, at Volvo Laval, we know your vehicle better than anyone else. We will advise you on the best possible choice of tires. You will be informed when to replace your vehicle's brake pads or shoes. In addition, we will test your battery level to avoid any inconvenience. We will use the best oil to lubricates internal components and engine parts. We will also suggest a complete maintenance program at no charge to ensure that everything is in good working order. Volvo service is all this and much more...
A Dedicated Service: Volvo de Laval
At the end of your visit, we will take the time to review the work performed. We can schedule your next maintenance appointment or you can book it online. You can do this at any time from home. Finally, Volvo de Laval is innovating by allowing you to view your maintenance calculator and thus closely monitor the frequency of your visits as well as the cost of maintenance. With its maintenance checklist, your dealer checks a number of parameters to determine the best time to bring in your Volvo vehicle. Maintaining your vehicle has never been easier – that's the Volvo de Laval promise. Volvo products are innovative and highly technological. After the repairs, your vehicle will be immaculate both inside and out following a thorough cleaning.
Come and discover Volvo de Laval's outstanding service, just a few minutes from Montreal and the North Shore. Your experience will be a happy one.