Volvo S60, an Exceptional Sports Sedan
June 28 2019, Volvo Laval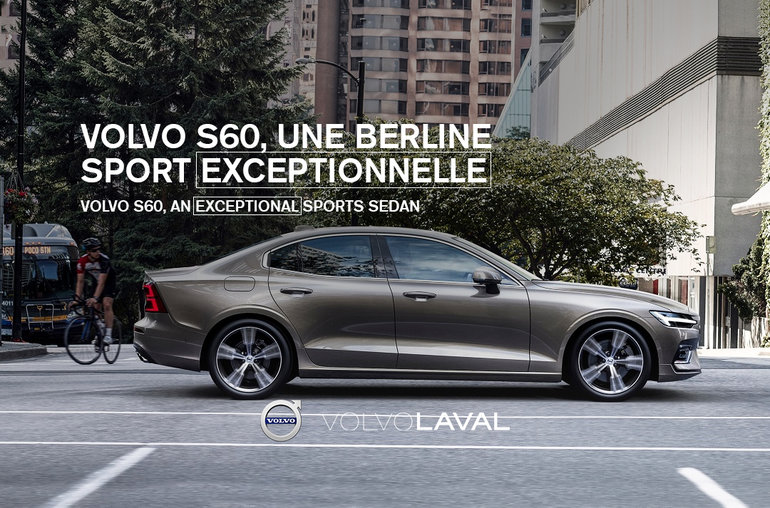 The S60, like all Volvo vehicles, is inspiring to drive thanks to its precise steering and three driving modes, which adapt to the road or your mood. Balance, precision and control are the three key adjectives that describe this premium sports sedan - it will propel you to the forefront and let you hone your driving skills.
Your Volvo Rive Nord dealer, located in Laval just a few minutes from Montreal, Saint-Eustache and St-Jérôme, brings you an inspiring an elegant option - the 2019 Volvo S60. This blog will introduce you to this all-new offering.
High-Performance Guaranteed
The new 2019 Volvo S60 sedan has a new look with its modular SPA (Scalable Product Architecture) frame and new, slightly larger dimensions than the previous generation model, but its innovational features are where the Swedish giant's remarkable progress is most noticeable. Indeed, the hybrid versions of the S60 are even more comfortable, powerful and high-performing. This Volvo innovation demonstrates the company's solid vision of the future - they are looking far ahead to develop new environmental solutions.
The 2019 Volvo S60 has an evocative design that embraces the pleasure of driving. Its minimalist Scandinavian elegance and numerous capabilities are perfect for navigating the roads of Quebec, Canada and the United States. It comes in four distinct versions: the S60 Momentum with its progressive style and innovative features, the S60 R-Design designed primarily for performance and power (sedan sport), the S60 Inscription with its remarkable luxury and elegance, and finally, the S60 Polestar Engineered with plug-in hybrid powertrain providing state-of-the-art driving dynamics.
Without going into the details of the entire Volvo S60 line, it is important to remember that all models are all designed to provide you with driving pleasure, comfort, luxury and reduced fuel consumption. What's more, Volvo offers safe vehicles with front collision mitigation system, lane assist, parking camera and whiplash protection system in the front seats.
As if that wasn't enough, the Swedish manufacturer is happy to add an intelligent driving information system, rain sensor, knee airbags, air curtains, alarm system, and more to its Volvo line. Volvo has always been an ultra-safe car brand; the 2019 Volvo S60 is no exception.
In the high-end interior, some versions feature 4-zone electronic temperature control, a Clean Zone air quality system, a huge power sunroof, a 12.3-inch graphic instrument panel and ventilated, heated and adjustable front seats, just to name a few comfort features.
Technologically speaking, the high-performance audio system, easy-to-use steering wheel-mounted controls, USB plugs, Bluetooth connectivity, highly sophisticated navigation system, smartphone integration with USB port (Apple CarPlay and Android Auto), voice activity functions, cruise control and more cannot go unnoticed in the 2019 S60.
Finally, the exterior of the S60 sedan is breathtaking with its 18-inch black alloy rims, all-LED active and directional high beam headlights, high-pressure headlamp washers, dual-integrated exhaust pipes, illuminated door handles that matches the floor lighting colour, keyless entry and hands-free tailgate opening.
In short, the 2019 S60 is sublime and perfectly continues the brand's momentum, this time with a sporty, intuitive and powerful sedan with a speed limit of 210 km/h, a dynamic frame and a Drive-E on/off engine feature. Even more spectacular, the 2019 Volvo S60 Polestar Engineered will be a hybrid. Volvo is taking part in the major global trend of vehicle hybridization and electrification, which aims to improve weather conditions and reduce greenhouse gas emissions around the world.
Volvo Laval Is At The Heart Of Innovation!
Among Volvo dealerships, Volvo Laval is a leader in offering excellent service and a team of experts. Indeed, Volvo Laval advisors are committed to the brand's success and consider it their duty to bring that little something that differentiates good service and exceptional service. As we take the time to discuss with our clients, to establish their needs, and we can advise them and provide them with the best options.
At Volvo Laval, near the North Shore, St-Jérôme and just a few minutes from Montreal, we have a 2019 S60 for you. Take the next step and come visit us to try out this world-class sports sedan.