Volvo Accessories, a Way to Enhance Your Vehicle's Look!
July 31 2019, Volvo Laval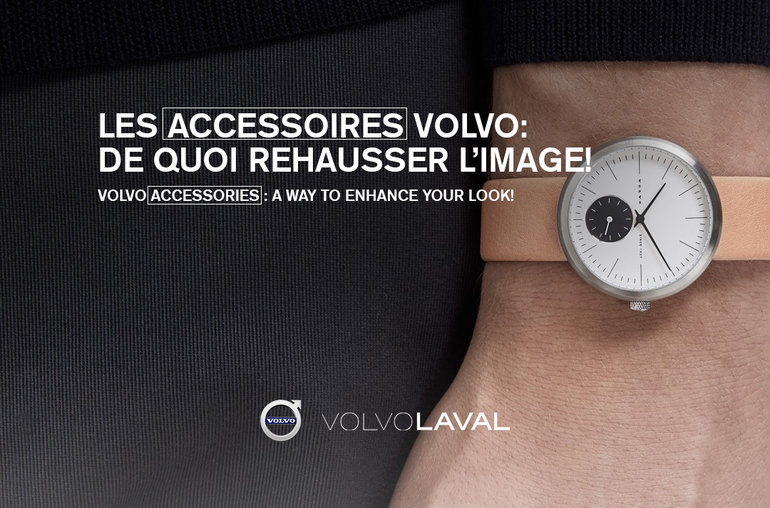 If you have Volvo at heart and you like to collect branded kick-knacks and accessories, then know that your Volvo dealership in Laval on the North Shore has a whole range of accessories and merchandise to complete your Volvo's look.
Accessories that Compliment the Brand!
If you're are a fan of watches and jewellery, Volvo offers its own collection of watches for men and women and with a refined style. Enjoy having the legendary Volvo brand on your wrist. If you prefer the boho style, you'll love our very trendy scarves in the brand colours. If you like hiking and spending the summer outdoors, but you fear a sudden downpour, Volvo has beautiful branded umbrellas.
If you're a tech geek, we know that you're looking for gadgets for your smartphone, tablet, personal cards or USB sockets - Volvo has what you need. If you want to look good and on-trend, our Volvo caps will catch the eye of the passer-by.
If your family is growing and your children are begging for new toys, Volvo offers an impressive range of miniature vintage cars, plush toys, small carts, colouring books and much more.
If you are a sports enthusiast, Volvo has the latest accessories for you, such as bags, polo shirts, T-shirts, coats, gloves, golf balls, water bottles, flashlights and more.
For your home, Volvo has collectibles, crystal and glassware. New arrivals include beautiful cufflinks, daytime sunglasses, travel bags, and reflective badge for your evening or night bike rides, etc.
In short, Volvo accessories and branded items have become popular with both Volvo car enthusiasts and collectors over the years. The extensive range has something for children, teenagers and adults.
Volvo Colours: Sweden at its Best!
Of all vehicle brands, the Volvo brand inspires and is a sign of reliability and durability, and Volvo accessories and items are in ever-increasing demand. People find them tasteful because they are generally muted and timeless. They will help the brand stay on the market for a long time.
When a manufacturer decides to invest in accessories and luxury items, it is a sign that the brand is trendy and in-demand, and Volvo excels on this front with its various models. With its high-quality offering, there is reason to believe that future years will bring even greater innovations.
At Volvo de Laval, your Volvo dealership in the greater Montreal area near the North Shore and the Laurentians, we know how to honour the Swedish manufacturer's legend. We do this in general with our Volvo products, but also on a smaller scale with our accessories and other items that enhance the brand.
Come and shop at Volvo Laval and leave with gifts for the whole family. At the same time, you will discover our new 2019 products in the showroom. Volvo de Laval is excited about the future and wants to share this great energy with you.