The 2019 Volvo V60 Cross Country: Dynamically Styled Family Car
June 14 2019, Volvo Laval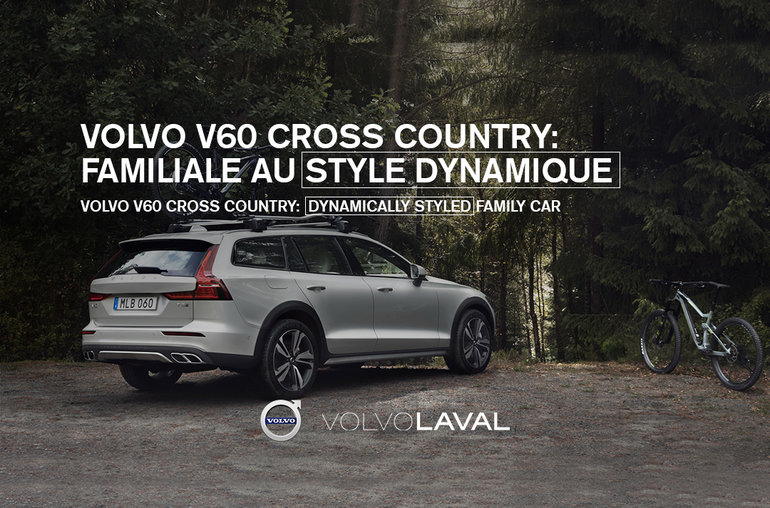 Looking for adventure and requiring space and capacity? The Volvo V60 is made for you and will take you even further with its dynamic styling, worthy of a top-of-the-line family vehicle.
At your Volvo Laval dealership, near St-Jérôme, Saint-Eustache and a few minutes from the North Shore and Montreal, a 2019 V60 Cross Country is waiting for you. This Volvo Laval dealership is clearly the largest dealer in the greater Montreal area, so let's discover this family car together and enjoy the adventure.
A Family Car That Meets Your Needs
The 2019 Volvo V60 Cross Country has style with its over tinted rear windows that add to her look and diminish temperatures and brightness under hot and sunny weather. With smart heated wiper blades, you'll improve your visibility by distributing washer fluid evenly and instantly across the windshield and rear window.
The shiny aluminium roof rails fit perfectly with the design of the V60 Cross Country and are very useful to easily install the Volvo load transport systems. With its integrated dual exhaust pipe, this family car looks sporty at its best.
Its LED headlights provide maximum lighting and add relief to the vehicle. With its alloy rims treated with an anti-corrosion primer before undergoing 3 coats of paint and a clear top coat, you'll be pleasantly surprised to find that the V60 Cross Country is equipped with 18-inch wheels, ensuring a balanced driving experience.
Intelligent exterior mirrors also give a very Swedish touch to this family vehicle designed for long journeys and with its sleek lines and modern styling, the 2019 V60 Cross Country perfectly fits the family's needs.
Under the hood, there's a T5 all-wheel drive engine that develops 250 horsepower and 258 lb-ft of torque. An automatic transmission and a Drive-E Stop and Go engine system add reliability to the vehicle for superior performance and power.
In the interior, you will discover comfort, elegance and luxury thanks to the 2019 V60 Cross Country's ergonomic, adjustable and heated seats, which are undoubtedly the most comfortable of all the car seats on the worldwide automotive market. Just sit in the vehicle and enjoy the feeling of being in a completely different world.
There is plenty of storage space and the Volvo V60 Cross Country can carry a lot. In addition, the legroom in both the front and rear seats is impressive. The vehicle is designed for road adventure, great outdoor adventure everywhere in Quebec, Canada and the United States.
Plus, the family vehicle is equipped with many technological features including an 8-inch touch screen, USB ports, Wi-Fi connectivity, Smartphone integration (iPhone and Android), voice control, Volvo On Call with subscription, power panoramic sunroof and much more...
Finally, while luxury, comfort, power and performance are all there, Volvo is renowned for making safe vehicles. In this regard, the 2019 V60 Cross Country is equipped with an intelligent driving and WHIPS information system function that effectively reduces the risk of cervical spine trauma in the event of a collision.
In addition, the Swedish manufacturer is innovating with the Drive Hill Descent Control system, which allows you to maintain control when descending on very steep, uneven and slippery roads. The 2019 Volvo V60 Cross Country is equipped with an intelligent braking system and helps you get started on a hillside. This ensures that your car stays still while your foot switches from the brake to the accelerator pedal. We could increase the number of safety innovations, so be aware that the Volvo brand is synonymous with advanced safety.
Volvo Laval: A Great Dealership!
People often says that dealerships all look alike, but Volvo Laval stands out for its exceptional service, sound advice and experienced team. As you step in, you feel that an extraordinary experience awaits you. We take the time to listen to your needs and suggest the best options to meet them.
At Volvo Laval, the ultimate dealership in Laval, near St-Jérôme and just a few minutes from the North Shore and Montreal, we only offer the very best in quality. Our know-how is put to use, time after time, so don't wait any longer and book a road test of the 2019 Volvo V60 Cross Country and discover the family car intended for adventure!